Encompassing work by FHS
Encompassing work by FHS
During the last half year several FHS members have brought our society to the attention of manufacturers who took part in the construction of the superferry GTS Finnjet.
As a chairman I always try to find the right woman or man for the task at hand. Today I can once again say that our members truly are the backbone of our society.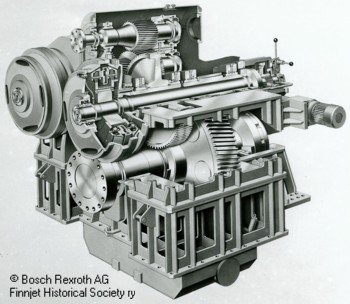 Bosch Rexroth AG from Germany sent to our member Mr Marcel Brech a very friendly letter and plenty of exciting materials. Some of it can be seen already in our picture gallery. The materials in question are about the first set of reduction gears that Finnjet employed.
In 1975 the media focus was on Travemünde, where the police lead the convoy of trucks to the M/S Hans Gutzeit. The reduction gears were ready to be shipped to Finland, where they would be installed on the magnificent ship. The symbol of progress was upon us!
I wish to extend my gratitude to Bosch Rexroth AG and to Mr Brech!
-RK